CYCLADIC IDOLS INFORMATION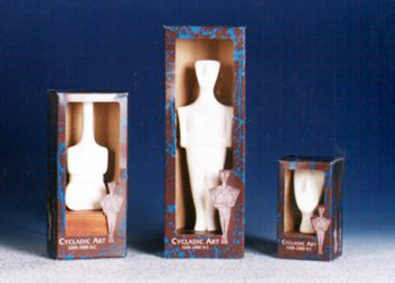 A. PACKING
For safe shipping and beautiful presentation all the Epalladio Cycladic Idol Collections are packed into elegant boxes designed by Epalladio.

Dimensions (of the boxes)
Height x Length x Width H x L x W H x L x W
(dimensions in c.m.) ( dimensions in inches)
Small size: 12.5 x 7 x 6 4.9 x 2.7 x 2.3
Medium size: 21 x 9 x 6 8.2 x 3.5 x 2.3
Large size: 30 x 10 x 7 11.8 x 3.9 x 2.7

Approximate Weight (with box)
Weight in grams
Small size: 190gr.
Medium size: 245gr.
Large size: 400gr.

B. COLOR + MATERIAL
The Cycladic Idols Collection from Epalladio come in one color, white, which was the authentic color of the original Cycladic figurines from museums. Our Cycladic Idols are made of high fired clay.

Cycladic Idols as a Promotional gift !
Our medium sized Cycladic Idols can be great promotional gifts. We have made it possible for the Cycladic Idols to hold clocks in their bases. This gift is away to combine ancient philosophy with contemporary needs.