The Epalladio art workshop presents a wide variety of ocarinas hand made by the artist Lotte Neumann. Having studied each figure, with concentrated detail, Lotte Neumann has brought this ancient musical instrument to life once again.

Every piece has its own unique character in form and sound. Our ocarinas are handmade with high fired stoneware clay, offering durability and sound quality, giving our costumers the satisfaction of purchasing a quality item. They are all handmade one by one using a technique that dates back to ancient times, called push molds.
As an artist Lotte Neumann is compelled to make sure that every ocarina is tuned according to the shape and form of each one.

The Ocarina is an ancient form of playing music with a historical value having been passed down for generations in order to explore the fascinating experience of making music with clay. Here at Epalladio we are honored to be a part of the continuation of the historical path that the ocarina has followed for thousands of years.
Enjoy the experience of playing with these ocarinas just like the people of the ancient world did for generations.

Letís keep this tradition alive!!
---
Giuseppe Donati, Italian inventor of the modern ocarina, with his work.
\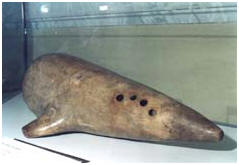 First specimens of ocarinas made by Giuseppe Donati in 1853
---
Click to view Epalladio ocarina collections