POMEGRANATE LAMPS
PRODUCT INFORMATION
A. PACKING
Our special packing for the Pomegranate Collection has been chosen by Epalladio to elaborate the presentation and increase the value of the item. We have found that the box plays an important role in the selling process. Our customers appreciate the products we sell not only for their high quality but also for their durability and beautiful packing.
Dimensions (of the boxes)
Height x Length x Width H x L x W H x L x W (dimensions in c.m.) (dimensions in inches)
Small size: 8 x 7.5 x 7.5 3.1 x 2.9 x 2.9
Medium size: 10 x 9 x 9 3.9 x 3.5 x 3.5
Large size: 12 x 11 x 11 4.7 x 4.3 x 4.3
Approximate Weight (with box)
Weight in grams
Small size: 170gr. Medium size: 225gr. Large size: 325gr.
B. COLORS + MATERIALS
The Pomegranate Collection from Epalladio is made of stoneware clay, which means they are water proof. We create them in two colors, red and dark beige. Epalladio Art Workshop has experimented with many glazes. When we find the right one, it is magnificent. Our glazed pomegranates have a core color with a delicate, glass-like texture. This collection is unique because the pomegranates also function as lamps. Each pomegranate lamp includes a small wick holder and cotton wick.
As an accessory we offer Christmas and other holiday decorations tied onto the pomegranate. Please inform us if you are interested in them.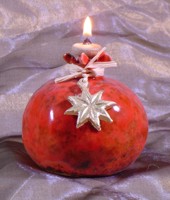 Follow the links below